Sovereign Brittanys Puppy information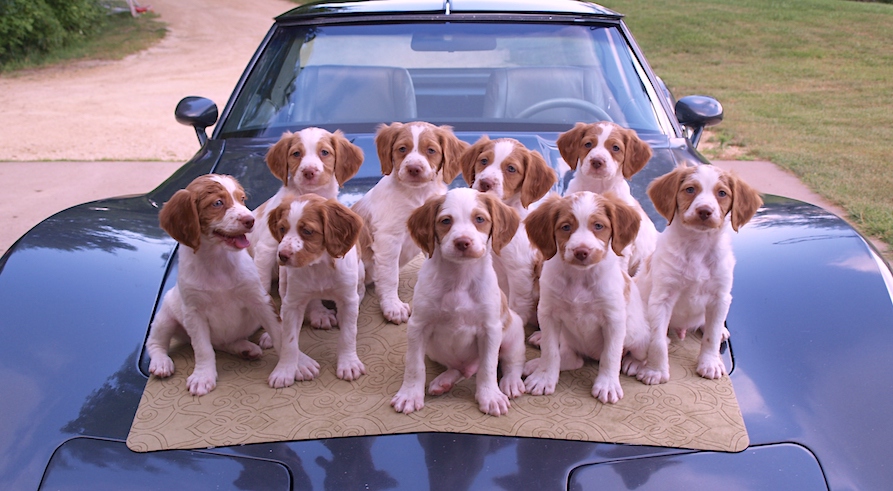 We encourage you to read
"Choosing A Breeder
" &
"Choosing A Brittany"

Choosing A Brittany from Sovereign Brittanys
FUNCTION
Our Brittanys are extremely versatile. We promote the "Dual Purpose" of the breed -- field and show. We pride ourselves on the fact that our dogs conform to the
AKC standard
for the Brittany. Of primary importance to us is the fact that our Brittanys are terrific companions, they are quiet and even-tempered, devoting themselves to their family. We sell to mostly companion/hunting homes and the owners have been happy with the fact that their dog will be easy-going at home, but come alive in the field.
QUALITY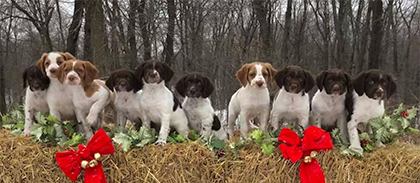 Aside of the good temperaments and hunting potential our dogs have, we are proud of the health quality of our dogs. To ensure we produce only the healthiest of animals, we go to great lengths (and expense) to test for certain health problems. One could only hope everyone would do the same -- reality is not everyone does, thus we continue to fight health problems in the breed. Some traditional physical problems, which of course our dogs have no indication of, are allergies, eye problems, heart disorders, epilepsy, and hip dysplasia. Our dogs' hips are certified by the
OFA
(Orthopedic Foundation for Animals), and are given ratings proving the dog free of dysplasia. Puppies are checked by a veterinarian and given their initial vaccinations and deworming before they leave us. Our dogs are sound, healthy animals void of physical or mental problems.
AVAILABILITY
We average two to three litters per year. We usually keep one puppy out of each litter, and the remainder are available to show, companion, and/or hunting homes. Puppies are placed with their families at 8 weeks of age. To eliminate potential problems, we determine which puppy should go to which family. Puppy buyers appreciate the use of our knowledge and experience to choose which puppy will best suit their needs.
From time to time we will have adults to place if they are "retired", or have completed their show championship and don't fit into our breeding program.
PUPPIES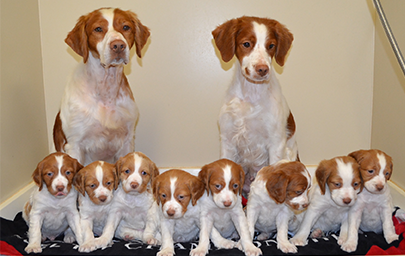 Puppies require much attention the first few months. Puppy buyers consistently comment how fast the puppy house trains -- a week or two.
As a good breeder I do everything to ensure you get a healthy, well socialized puppy. BUT THE REST IS UP TO YOU!! We recommend a "puppy kindergarten" class and an obedience class. Just like our human kids, the canine kids require discipline and guidelines to help them become good citizens.
CONDITIONS
The price of a pet puppy is $1,500.00 and the puppy is sold with a spay/neuter contract. Information you will receive on your puppy will include a pedigree, AKC registration papers, copy of parents'
OFA
certificates, contract, and puppy care recommendations.
We use a standard contract set up by the Minnesota Purebred Dog Breeders Association. Unless otherwise discussed, our dogs are sold on a spay/neuter contract. If you feel you are not in driving distance to our house, we can easily ship Northwest VIP, which costs approximately $350 anywhere in the US. To reserve a puppy we require a non-refundable $200 deposit.
Puppy Questionnaire Here
BOYS vs. GIRLS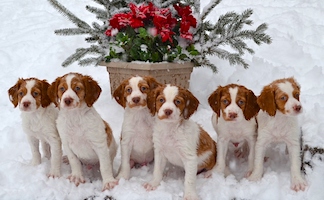 A common question is "Do you recommend males or females?" There is not the difference in the two sexes, as most people believe. The size difference is minimal -- the males usually range from 35-40 lbs. and 19" to 20" tall (measured from shoulders to ground), and the girls usually range from 30-35 lbs. and 18" to 20" tall.
Hunting ability and temperament are subject to the individual dog, not their sex. Spaying or neutering a puppy at 5 to 6 months of age will prevent the hormones from having any effect on temperament. There will be no "marking" from the girls or any "leg lifting" from the boys.
RESERVE YOUR PUPPY
If you are interested in purchasing a puppy, there is an online
questionnaire
on the "
For Sale
" page of this website. We respond to every questionnaire by email. If one of our puppies would potentially be a good fit, we ask you come for a visit so we may meet you in person and you may meet our dogs.
If a visit is not feasible due to travel restrictions, a phone interview is acceptable. Once we (us and the prospective family) decide one of our puppies/dogs would be a good fit we accept the non-refundable deposit. When a breeding is done we contact families on the waiting list to give them an idea of timing and then contact them again when the puppies are born.
We may have a puppy available in that litter or the family would wait until the next litter, depending on placement on the waiting list and the puppies in the litter.


Lena said, "Ole just got a new puppy, so we're sending him to obedience school.
If he learns a lot we'll send the puppy too."