Current Dogs at Sovereign Brittanys.
NBOB/BIS/BISS DC GCHS Sovereign's Chasing Legends "Hobey"
DOB: 7/29/2010 | OFA BS-15897G24M-VPI | Eyes & Thyroid Normal | CHIC #105830 | Pedigree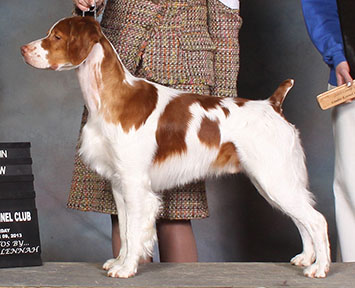 National Specialty Winner - Best in Show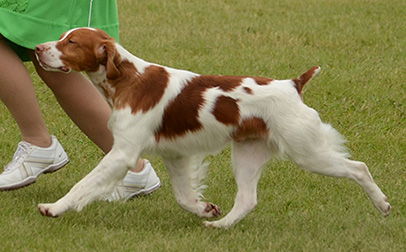 Gaiting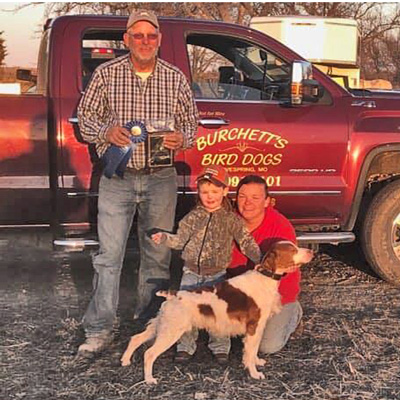 5 pt major for Hobey with Bob, Valerie & Hyatt Burchett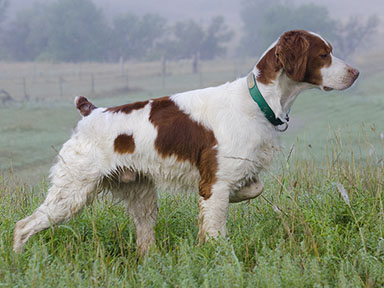 Major Field Pointed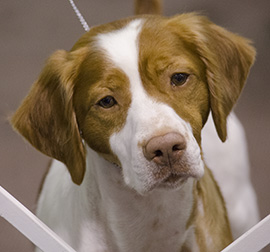 Look at that face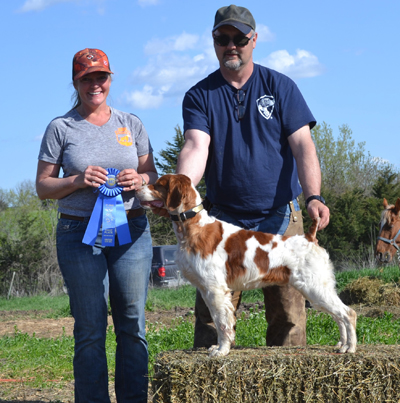 3 Point AFC Win for Dawn & Hob w/ Joe Scouting!

"HOBEY" made Brittany history! He is the only Dual Champion to have won an all-breed Best in Show and the American Brittany Club National Specialty Show Best of Breed (from the Field Trial Dog class)!

Hobey has been a Top 10 Brittany and has won the ABCs Top 20 Invitational Competition. In 2018 Hobey was shown in Canada in one weekend he won three Sporting Group 1s, a Best in Show, and Best of Breed at the Brittany Spaniel Club of Canada.

We have the Burchetts to thank for Hobeys Field Trial Championship. Bob has done a fantastic job connecting with Hobey and honing him to the great field dog he is today. Hobey is just 2 points away from his Amateur Field Championship, hopefully one more feather in his cap.

We are thrilled with how Hobey consistently produces sound and talented puppies. He has produced multiple show champions, multiple hunt test titled dogs, agility titled dogs, and juvenile field trial winners.To view hiscurrent list of winners click here.Hobey is from the frozen semen breeding of Ch Alar's the Rocketeer CD SH "Chase" and DC Sovereign Copley Kiss My Chips "Zelda". Hobey is fourth generation Dual Champion, and tenth generation Field Trial Champion. Hobey is a blessing to us in many ways - fun to show, a pleasure to hunt behind, but mostly a joy to have as a companion in our family. I just wish he wouldn't take up so many covers on the bed!

"HOBEY'S Get"
CH SOVEREIGN'S AMERICAN MUSCLE "Charger"
10/18/2017 | OFA:18701G24M | Pedigree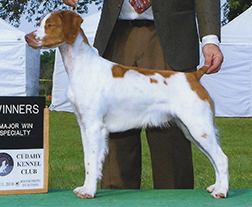 "CHARGER" is out of Godiva's second litter (sire is "Vin" Ch Sovereign's Fast and Furious JH). is out of Godiva's second litter, his sire is "Vin" Ch Sovereign's Fast and Furious JH. Charger has proven himself worthy in the show ring and the field! Charger earned the DUAL DOG AWARD at the 2017/2019 ABC Central Futurity. He was Best of Opposite Sex/1st Money Male in the Show and 2nd Place in the Gun Dog Futurity. Charger finished his show championship with all Brittany Specialty majors.

He is well on his way to his Field Championship with trainer/handler Bob Burchett. Charger has 6 FT points, a 4 point open major at the Greater St Louis Brittany Club trial (before the age of 2) and his 2 Derby points, winning the derby stakes at the St Croix Valley Brittany Club and Nebraska Brittany Club field trials. Charger will continue to be run in Open stakes with Bob Burchett, and will be run in Amateur stakes by Joe.

He will also make an occasional appearance in the show ring in the Field Trial Dog class..
CH SOVEREIGN'S GLITTER and GREASE JH "Tinker"
1/20/2018 | OFA # BS-19022G32F | Pedigree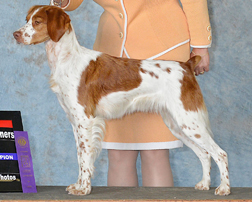 "TINKER" is from Sallys (Hobey ex Corvette) first litter, bred to Ch Hope's Ranger Rick, who sired the 2x National Gun Dog Champion NGDC/GFC/DC Hope's Chief of Cross Creek.Tinker is co-owned with our son Jake.

Jake finished Tinkers Junior Hunter title handily, and is Jakes personal hunting dog. At 6 months old Tinker was awarded a specialty major at the Greater Milwaukee Brittany Club Specialty Show, and Jake handled her to another major at the Minnesota Brittany Club Specialty Show.

We look forward to Tinker being bred, and producing some great puppies.
CH SOVEREIGN'S NOTJUSTABIRDDOG "Champ"
10/1/2018 | OFA BS-19108G26M | Pedigree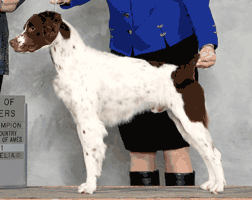 "CHAMP" is from "Godiva's" third litter, bred to "Ditto" CH Sovereign's Cut to the Chase JH (Chase son). I was hoping to get a great liver show prospect male. While he is definitely a nice show prospect, he also excels in the field. "Champ" is trained and handled by Bob Burchett, he has 7 puppy and derby placements, including two puppy stake wins for his puppy Field Trial points. "Champ" was invited to the Derby Invitational at the ABC Nationals, despite being possibly the youngest entrant "Champ" was awarded a 3rd place in a very competitive stake. "Champ" has a Best in Sweepstakes, and hopefully will get to some shows soon.

We just love this guy's fun personality and look forward to many future adventures with him!
SOVEREIGN'S LEGENDARY TALE "Epic"
6/17/19 | Pedigree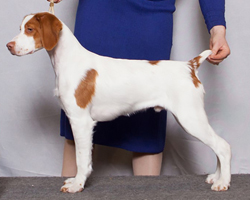 "Epic" is out of our first "Hobey" ex "Classy" breeding. He is not only sound, but also talented in the field.

Epic has 3 placements in puppy stakes, and will be running in Derby this year.

We are excited to get "Epic" in the show ring and to keep up his field work.
CH. SOVEREIGN'S LEGENDARY SPEED "Turbo"
DOB: 12/11/15 | OFA # BS-17937G24M | Pedigree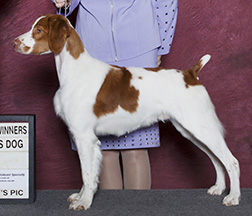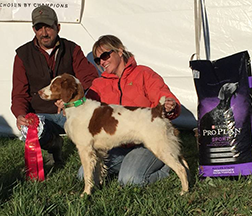 "TURBO" is a Hobey ex Corvette son. He finished his championship handily winning Reserve Winners Dog at the American Brittany Club National Specialty Show, another Brittany club specialty major, and a Sporting Group placement from the classes. In 2017 Turbo won 2nd in the American Brittany Club Gun Dog Futurity.Turbo is a great name for him, as he loves to run and hunt. He's a pleasure to be around, always happy and eager to please.

MY LIL KANSAS SUNFLOWER "Flower"
8/22/19  | Pedigree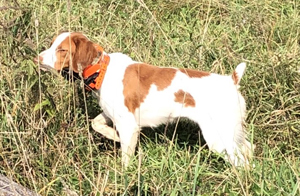 "FLOWER" was purchased from Nick Blasi out of Wichita, KS. Nick and Matt Kitchen bred Flower, shes out of a young stud Willie Makeit and a Bebe daughter Nova MKs My Lil Classic. Flower has a lovely field pedigree, with many Hall of Fame dogs present, check out her pedigree link above.

We will show Flower and see if she shines in the ring as much as we anticipate her shining in the field.

We sure are excited about this sweet, young girl! .

Dual Pointed.

SNIKSOH SONIC BOOM "Sonic"
4/12/20  | Pedigree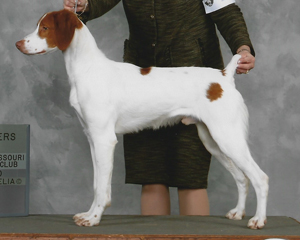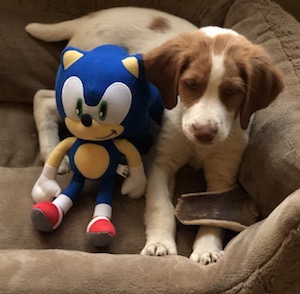 "SONIC" is bred by Nick Blasi out of the talented Sniksoh Patty Ann and the proven sire FC AFC Sniksoh Free Boy "Boomer".

Thank you Nick for the opportunity to own this guy. We think he's something special!

He is already living up to his name, and frequently zooms around faster than the speed of sound.

We are excited to watch "Sonic" develop in the field with Burchett Bird Dogs!

RAJIN'S ATTA BOY "Sparky"
5/29/20 | Pedigree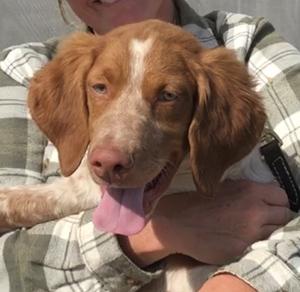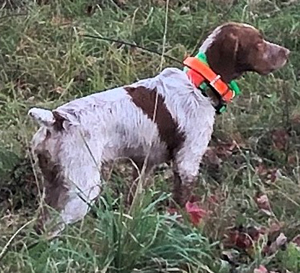 We have missed having an orange roan at home! Jeff Hoskins turned us on to this handsome young boy. "Sparky" is sired by Jeff's dog GFC/FC/AFC Sniksoh Spanks Hank and a young talented female of Robbie Meyers, Spanish Dancer.

Thank you Robbie and Jeff for the chance to help this guy reach his full potential.

Watch for "Sparky" at a field trial or a dog show!
SOVEREIGN'S SWEETER THAN HONEY "Clover"
6/18/20 | Pedigree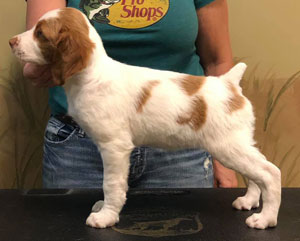 We were so excited to breed our great producing girl "Godiva" to GFC/AFC Sniksoh Spanks Hank "Hank" bred/owned by Jeff Hoskins in CO. We were not disappointed with the quality of this litter!

"Clover" is as sweet as she is lovely!

We are excited to get her in the show ring and at Hunt Tests!

WARNONNET'S ONE TOUGH COOKIE "Sassy"
4/12/20 | Pedigree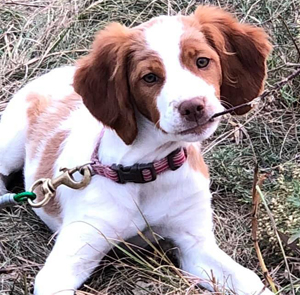 We were excited that Todd Breidenfeldt bred to Hobey in the spring of 2020, and even more excited to see he was breeding his Hobey granddaughter to the lovely and talented GFC/DC Almaden's Under Lock and Key "Oudi". Instead of taking a "Hobey" puppy for a stud fee, we took an "Oudi" puppy.

Our thanks to Todd for using "Hobey" and our thanks for letting us add "Sassy" to our Sovereign Team.

We went through a list of names trying to find one to fit her. This little spitfire is full of personality and is super outgoing. At one point, I called her little Miss Sassy Pants, and she took to the name "Sassy" immediately. Her registered name was easy, as she is definitely One Tough Cookie. Even as a baby she thinks nothing of taking down the boys three times her size!

We are looking forward to having fun with this "Sassy" girl

SOVEREIGN'S LEGENDARY WINGMAN "Goose"
3/14/20  | Pedigree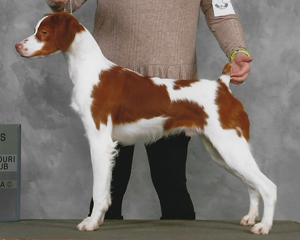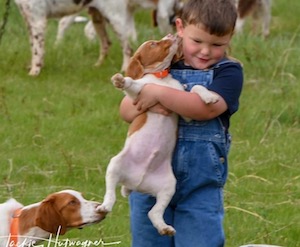 "GOOSE" is from Carter Brittany Kennels, his mother is Carter Brittany's "Shelby Winnin" and his sire is our "Hobey".

Thank you to Dr Jim and Drew for breeding "Shelby" to "Hobey" and producing this lovely boy. "Shelby" is sired by the famous NGDC NAGDC FC AFC Peter Gunn.

We are as excited about "Goose's" show career as we are his field career. Watch for this guy!
Dogs Co-Owned with Sovereign Brittanys
DUAL CHAMPION CROSSCREEK SOVEREIGN'S POP-A-TOP "Jackson"
DOB: 04/24/17 | BS-18808G34M | Pedigree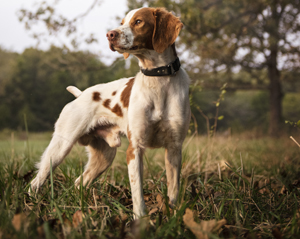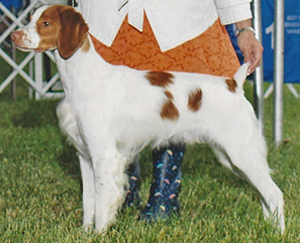 "JACKSON" is out of Godiva and frozen semen from DC/AFC Hope's Tap-A-Keg."Jackson" finished his championship quickly with 4 majors, including a 5 point specialty major and a Best of Breed from the classes. We now co-own "Jackson" with Dr Barbara & Wayne Pepin."Jackson"

Jackson recently completed his dual championship under the whistle of trainer/handler Bob Burchett. He has an exciting future.

FC SOVEREIGN'S LEGENDARY COWBOY "Duke"
10/18/2017 | BS-18734E26M | Pedigree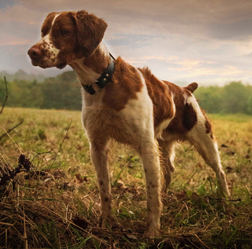 "DUKE" and Charger are littermates. We sold Duke to Matt Weldele as a puppy. We invited Matt to enter Duke in some Hunt Tests and a walking Field Trial. Duke easily earned his Junior Hunter and several puppy/derby win/placements, Matt decided he wanted to send Duke out with Bob Burchett to determine Dukes potential. Duke went to summer camp with Bob Burchett and finished his Field Championship in one season (2 weeks after his 2 year old birthday).

Duke won 2nd in the Nebraska Brittany Club Trial for 2 points, 4th in the Grand Open Limited Gun Dog hour stake at Hawkeye Brittany Club Trial, 1st in the LaSalle Brittany Club trial for 5 points, and 1st in the Midwest Brittany Club Trial for 5 points. We now co-own Duke with Matt and are enjoying watching his Field Trial career. Matt showed Duke a couple weekends and has 2 points toward his show/dual championship. We will continue to show Duke, in hopes to earn his Show Championship/Dual Championship. During the off season.

Duke enjoys going to work with Matt and trying to mooch treats off everyone in the office, and heading off for hunting weekends with Matt. .
SOVEREIGNS JUDGE N JURY "JJ"
10/1/2018 | OFA# OFA - hips BS-19059E25M   | OFA elbows BS-EL2086M25| Pedigree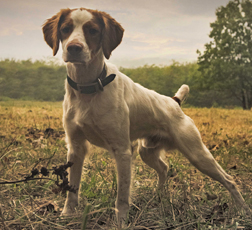 "JJ" went to Marcia and Chuck Lawrence as a puppy, and they were kind enough to allow us to co-own him. What fun this dog has been already!

JJ was awarded BEST DUAL DOG at the 2020 ABC Eastern Futurity in FL. JJ earned 2nd money male in the show and 2nd in the Gun Dog stake. At the weekend Mid-Florida Brittany Club Trial, Dawn handled JJ to a 1st place in the Amateur Derby stake earning him his first two AFC points.

JJ is out with Bob Burchett enjoying his new job as a field trial dog. He will be shown this summer before heading back to summer camp with Bob.

We are excited to get this little spitfire in the show ring and in the field.


BISS GCHS RIVERMIST BROXDEN SOVEREIGN MVP "Mario"
DOB: 7/21/15 | OFA # BS-17800G24M |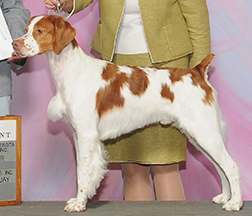 " MARIO" came to us via Canada. We were thrilled when Allyson Godfroid and Amy Booth wanted to use Hobey at stud on their lovely bitch "Macy" GCh Rivermist Broxden Best I Feather Seen JH.

"Mario" is named after the famous Canadian, Mario Lemieux - a legend as a hockey player and an owner of the Pittsburgh Penguins hockey team. We are thrilled to have Mario here as part of our team! Mario is a multiple Specialty Best of Breed winner, Sporting Group winner, and was # 5 Brittany in the country in 2017.

"Mario" is currently co-owned by Kami West and being campaigned in the breed ring by Kami. In 2019 Kami was the # 1 Brittany Junior Handler in the country with Mario on her lead. Kami showed Mario to his many Best of Breed wins and group placements in 2019, earning Mario the # 11 Brittany in the country position for the year 2019.

In 2020 Mario was # 6 Brittany in the country (Breed AND All-Breed Systems) with limited showing. We are looking forward to an exciting year in 2021!

We foresee many more wins for Team Mario & Kami!
SOVEREIGN'S DARK CHOCOLATE JH "Cocoa Bean"
10/1/2018 | Pedigree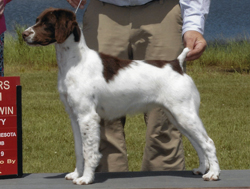 "COCOA BEAN" is "Champ's" sister. This little pistol is a ton of fun in a small package! Joe handled her to a major at the Minnesota Brittany Club Specialty Show as a puppy, and she will be continuing her show career. We introduced her to birds and she was a natural like her mom "Godiva". She has gone 2 for 2 towards her Junior Hunter Title.

We look forward to breeding her in the future and perpetuating the Dual potential.

"Cocoa Bean" is now co-owned, and living with John and Leanne Van Allen (and half brother "Finn").
We are excited to partner with them and look forward to Cocoa Bean's future.

Thank you Van Allen's!
SOVEREIGN'S MAIN INGREDIENT DS "Butter"
5/26/19 | Pedigree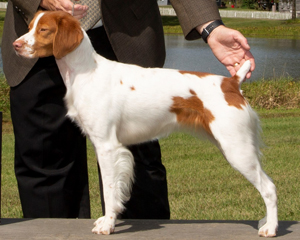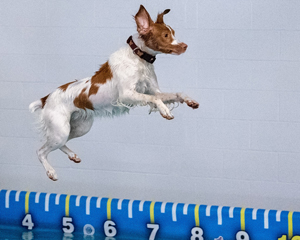 "BUTTER" is from our litter with "Godiva" bred to the talented and lovely "Trump", who earned the agility MACH11 title, is incredibly talented in dock diving, and has his Junior Hunter title.

"Butter" is co-owned and lives with Debra and Steve Mitzel. The Mitzel's are having fun with "Butter" in agility and dock diving, and we are anxious to see how "Butter" pairs with the conformation ring. She is already a natural in the field and will start in on her field titles. "Butter" lives with "Gary" (another Hobey grandson).

Thank you Deb and Steve for sharing "Butter" with us!
Sovereign's Indecent Exposure "Flash"
6/18/20 | Pedigree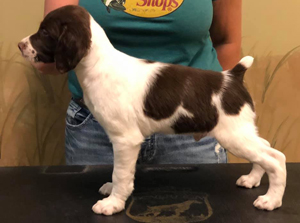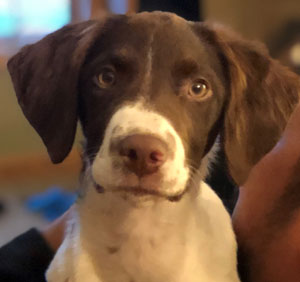 We were so excited to breed our great producing girl "Godiva" to GFC/AFC Sniksoh Spanks Hank "Hank" bred/owned by Jeff Hoskins in CO. We were not disappointed with the quality of this litter!

We kept a male and a female out of the litter. We were thrilled when Matt Weldele said he was ready for another dog, and we are excited he is going to co-own "Flash" with us. "Flash" and "Duke" will make a great pair for Matt!