Sovereign Brittanys since 1993
Sovereign Brittanys
Since 1993

Dawn & Joe Droel, of Marine, MN,
breeding quality brittanys

Did some one say let's go hunting?

About our puppies

We pride ourselves on the fact our dogs are wonderful, quiet family/house dogs but will perform in the field, show, agility, and obedience events successfully and with all their heart.

Our Breeding Program

We are extremely selective on the animals we breed -temperament being top priority, but hunting ability, show potential (correct/sound conformation), and freedom from hereditary issues are necessary prerequisites for our breeding stock.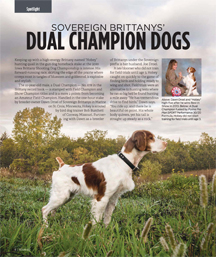 Hobey Article - by Purina